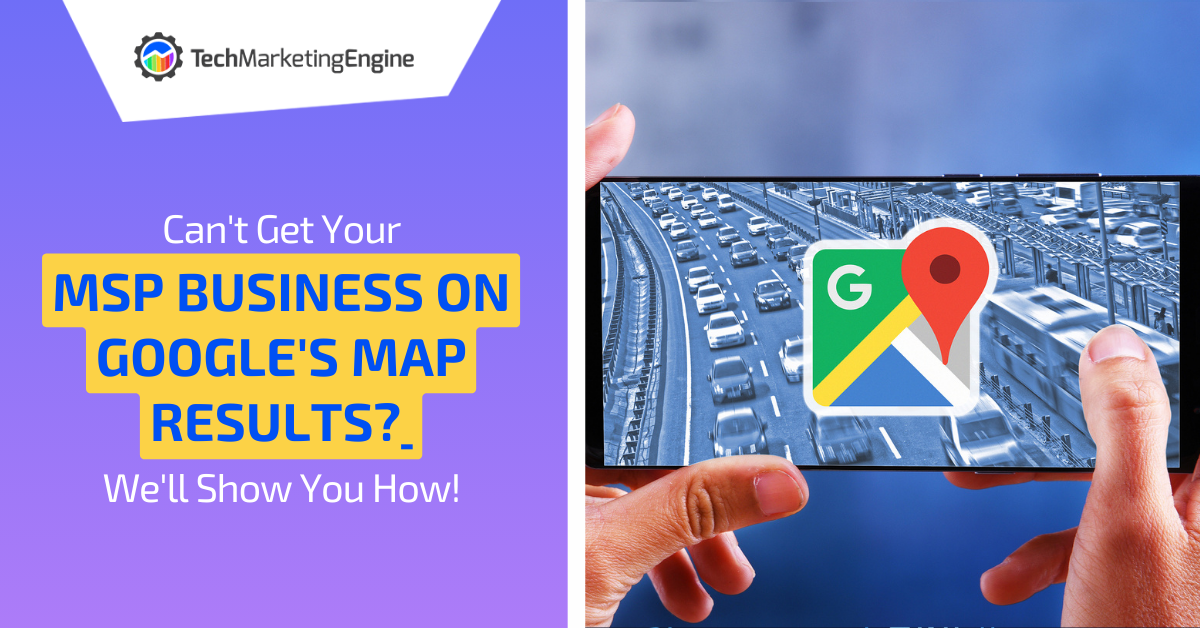 Being well-positioned on Google is important for growing your IT business. Ninety-two percent of people will choose businesses on the first page of a local search result, and 70% of online searchers will visit a physical location.
With so many businesses vying for the same clients, getting noticed in Google's map results can make a huge difference in your sales. But many MSPs just aren't sure where to get started.
In this article we're going to tackle this critical aspect of your online presence. So, grab your favorite beverage, sit back, and let's dive into the world of local search optimization.
Why Is Local Search Optimization Important?
Before we get into the nitty-gritty of how to get your MSP business on Google's map results, let's talk about why it matters. Potential clients often turn to search engines like Google to find local businesses for everything from pressure washing to computer repair.
Whether they're looking for malware removal, managed services, or cybersecurity expertise, being visible on Google's map results can be a game-changer for your MSP business. Here's why.
Increased Visibility
When your business appears on Google's map results, you're at the top of the list of options for potential clients in your area. This increased visibility can lead to more website traffic, inquiries, and ultimately, more sales.
Trust and Credibility
Being listed in the map results adds an extra layer of trust and credibility to your business. If you're not listed, you often don't exist for someone doing an urgent search from their smartphone. People tend to trust Google's recommendations.
Convenience
Many people use Google to find businesses because it's convenient. It's quick and easy, especially when someone's in a hurry. They can easily see your location, contact information, and reviews, and click to call you from their phone.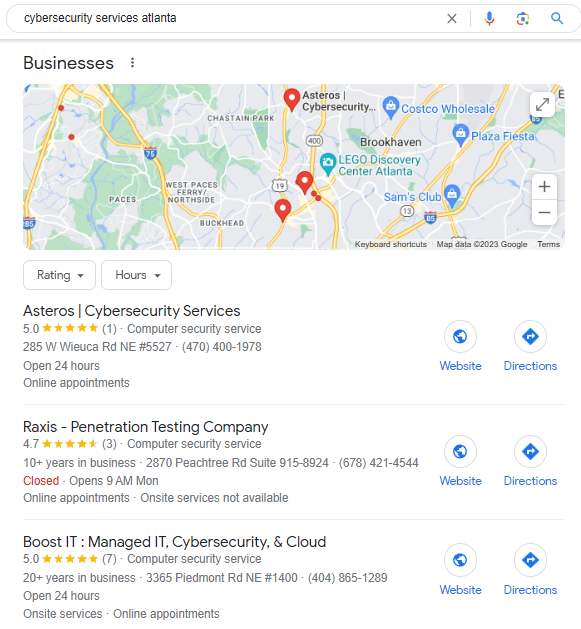 Google's map results make it simple for searchers to quickly locate and visit a local business, as well as see reviews, hours, and more.
Now that we've established why getting a map listing is important, let's explore how to get your MSP business on Google's map results.
Tips for Being Found More Easily in Google's Local Map Results
Set up your Google Business Profile listing
The first and most crucial step in getting your MSP business on Google's map results is setting up a Google Business Profile (GBP). It gives you special visibility when someone is searching for your business or similar businesses in your area.
If you haven't already done this, it's time to get started:
Go to Google Business Profile: Head over to the Google Business Profile page and sign in with your Google account.
Add Your Business: Follow the instructions to add and set up your business profile.
Verification: Google will ask you to verify your business. This usually involves receiving a postcard at your business address with a verification code. Once you receive it, make sure to follow through and enter the code in your GBP dashboard to complete the verification process.
Optimize Your Profile: After verification, fill out your Google Business Profile page completely. This includes adding high-quality photos, a compelling business description, and relevant keywords.
Fill in as much information as possible
Now that you've claimed your Google business listing, it's time to optimize the information to improve your chances of showing up in Google's map results.
This includes filling out as many details as possible and making sure the information is accurate. Make sure to populate these key areas:
Accurate NAP: Add your company's name, address, and phone number (NAP). Make sure they match what is listed on your website and any other local citation websites, including social media profiles and online directories.
Categories and Attributes: Select the most relevant categories for your IT business, and add attributes that describe your services, such as "IT support," "managed services," or "cybersecurity expertise."
Business Hours: Provide accurate business hours, including special hours for holidays. This helps potential clients know when they can reach you. If someone needs urgent IT services on the weekend, they're going to call those businesses that show they're open then and avoid those that don't.
Website URL: Make sure your website URL is correct, and if you have multiple locations, link to the specific landing pages for each location.
Optimize your website
Your website plays a significant role in your local search optimization efforts. You need to be sure you're optimized across all internet presences.
Here are some tips for optimizing your site:
Local Keywords: Incorporate relevant local keywords into your website content, meta descriptions, and title tags. For example, include phrases like "IT services in [Your City]." If you can, create additional service pages that include the local city in the URL.
Mobile-Friendly Design: Ensure that your website is mobile-responsive. Google gives preference to mobile-friendly websites in search results.
Page Speed: A fast-loading website not only enhances user experience but also improves your search engine rankings. Use tools like Google PageSpeed Insights to identify and fix speed issues.
Local Content: Create blog posts or articles that focus on local topics, events, or news related to your industry. This can help you rank higher for local searches.
Encourage customers to leave you a review on Google
Positive reviews not only build trust but also improve your chances of appearing in Google's map results. People are also more likely to click on a business with a good star rating than one without any reviews at all.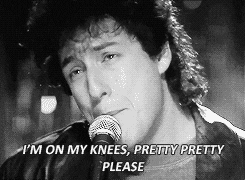 Here's how to encourage customer reviews:
Ask for Reviews: Encourage satisfied clients to leave reviews on your Google listing. You can do this through email campaigns, on your website, or in-person requests. Be sure to give them a direct link. Google makes it easy to link to your review page.
Respond to Reviews: Engage with your customers by responding to their reviews, both positive and negative. It shows that you value their feedback and are committed to providing excellent service.
Maintain Quality: Consistently delivering high-quality services will naturally lead to more positive reviews, which can further boost your online reputation and map position.
Read more: Pro Tips from Google on Getting More Online Reviews for Your IT Business
Build up local citations on other sites
Local citations are mentions of your business name, address, and phone number on other websites, directories, and social platforms. When Google locates your business (with the same name, address, phone number, and web address) on other platforms like Yelp or Manta, it increases your overall trust factor.
Here are some best practices for doing this:
Local Directories: List your MSP business on local directories such as Yelp, Yellow Pages, and industry-specific directories. These citations signal to search engines that your business is legitimate and relevant. Also, look for any local online directories in your service area.
Consistency: Ensure that your NAP information is consistent across all citations. Any inconsistencies can confuse search engines and hurt your rankings.
Social Media: Maintain active profiles on social media platforms like Facebook, LinkedIn, and Instagram. These profiles can also serve as citations and help with local search optimization.
Monitor and update your Google Business Profile regularly
Local search optimization is an ongoing process. It's crucial to monitor your progress and make adjustments and updates as needed. A great way to keep your GBP fresh is to regularly add updates, like links to your blog posts. These are shown at the bottom of your GBP search result.
Here are some ways to monitor your profile so you can continue optimizing your position:
Google Analytics: Use Google Analytics to track your website traffic, user behavior, and conversions. This data can help you identify what's working and what needs improvement.
Google Business Profile Performance: Keep an eye on your GBP performance analytics to see how people are finding your business and interacting with your listing. Drill down into things that work.
Ranking Tracking Tools: Use ranking tracking tools to monitor your position in local search results for relevant keywords. This can help you identify areas where you need to improve.
Search Your Own Business: Pretend you're a potential customer and search using some local keywords you've optimized for. See what a prospect experiences, and optimize your profile as needed.
Build Your Google Presence & See Results Over Time
Getting your MSP business on Google's map results is a vital step in increasing your online visibility and attracting more clients. Rome wasn't built in a day, and neither is your Google profile optimization. But results will come if you nurture it.
Local search optimization is an ongoing effort, and staying up to date with the latest SEO trends and Google's algorithm changes is essential. By following these steps and continuously improving your online presence, you'll be well on your way to getting your MSP business on Google's map results and reaping the benefits of increased visibility and credibility in your local market.
Good luck, and may your MSP business thrive!
Need some help with SEO and Google profile optimization? Tech Marketing Engine can help you attract more customers and increase revenue. Reach out today to schedule a chat.
How does your company rank on Google's map results? Share your answer in the comments.