There's no question that having a strong online presence is crucial for any business owner. If you're selling products or services to other businesses, then LinkedIn is definitely a place you want to be visible.
Four out of five people on LinkedIn drive business decisions, and platform members have 2x the buying power of the average online audience. Among the smorgasbord of social media platforms, LinkedIn stands out as a powerful tool for B2B marketing.
Creating a killer LinkedIn profile can significantly boost your professional image and help you connect with more potential customers. Let's dive into some essential tips to craft a LinkedIn page that truly shines.
How to Maximize Your LinkedIn Presence
Do you actively manage and update your LinkedIn profile? Or did you set it up and now it's pretty much collecting dust? You could be missing out big time on potential sales by sitting on the sidelines of one of the busiest online communities for professionals.
LinkedIn is tailored to help you connect with potential IT business customers. It's actually the #1 platform for B2B marketers across all industries. Some of the features it offers to drive sales are:
Direct messaging to converse with prospects
Services Marketplace to drive more leads
Paid advertising opportunities
But to get good results from LinkedIn, you need to give your profile some time and attention. A profile description that hasn't changed in 5 years or a fairly empty personal page isn't going to cut it. Not if you want to use the platform for driving sales conversions.
Here are some tips to help you build a killer profile on LinkedIn that helps you attract new business and make great connections.
1. Craft a Compelling Headline
Your headline is the first thing people see when they visit your LinkedIn profile. Instead of a generic title, make it attention-grabbing and informative. For example, instead of "MSP Owner," opt for something like "Driving Digital Transformation Through Managed IT Services." This instantly communicates your value proposition and piques interest.
2. Choose the Right Profile Picture
Your profile picture is your virtual handshake. Opt for a high-resolution photo that showcases your professionalism. A friendly smile and appropriate attire can go a long way. For IT business owners, a picture that combines approachability and expertise is ideal.
3. Compose a Compelling Summary
The summary section is your chance to tell your story. Highlight your passion for IT, your journey as an MSP owner, and the unique solutions you offer. Use bullet points, paragraphs, and even multimedia elements like videos or presentations to make it engaging and easy to digest.
What you don't want is a long block of text that's hard to read. Great content isn't going to help you if no one reads it. Use bite-sized paragraphs of just a couple of sentences and sprinkle in some of your personality.
4. Showcase Your Expertise
The "Featured" section on LinkedIn allows you to highlight posts, articles, and media that demonstrate your expertise. It's a great place to highlight your company blog posts, key service pages, and other important information about your business. Bite-sized videos are also great to post here.
You can add the following in your profile's Featured section:
Post
Article
Link
Media, like an image or video
Use this section to share insightful articles about IT trends, success stories, or valuable tips for businesses. This section acts as a portfolio of your knowledge and achievements.
5. Detail Your Experience
When listing your work experience, focus on accomplishments rather than just job duties. Use metrics whenever possible to quantify your impact.
For example, instead of saying, "Managed IT projects," you could say, "Led a team that successfully implemented a cloud migration, reducing operational costs by 20%." Think creatively, and in the age of AI, don't be afraid to get some help from ChatGPT on creating the perfect descriptions.
6. Leverage Recommendations
Glowing recommendations from clients, colleagues, and partners can build trust and credibility. It's like LinkedIn's version of MSP business reviews.
Reach out to satisfied clients and colleagues and kindly ask them to write a brief recommendation highlighting your skills and contributions.
And don't be shy about asking. Most people like the opportunity to give a shout-out to a business acquaintance or colleague. When it comes to reviews, 68% of people will give one the first time they're asked.
You can also return the favor and make a recommendation for a company you do business with. This is a great way to continue fostering those long-term relationships.
7. Use Keywords Strategically
Keywords run the internet. It's how anyone finds anything in that vast worldwide web. Like most other social media sites, LinkedIn functions like a search engine.
So, use relevant keywords that potential clients might use to find your services. Incorporate these keywords organically throughout your profile, especially in your headline, summary, and experience sections.
Read: 10 Best Keyword Research Tools for IT Businesses
8. Engage Through Regular Content
Sharing consistent, valuable content on your LinkedIn feed keeps your profile active and helps you stay on the radar of your connections. Share industry insights, success stories, and even personal experiences related to your MSP journey. Engaging content can attract potential clients and partners.
Whenever you upload new video, blog post, or lead magnet (eBook, infographic, etc.) to your website, make a post about it. If you're running short of time, get help from a marketing service like Tech Marketing Engine. We'll automate the content generation and posting for you!
9. Join Relevant Groups
LinkedIn groups provide an excellent platform for networking and sharing knowledge. Join groups related to IT, managed services, and your target industries. Engage in discussions, offer solutions to problems, and establish yourself as an authority in your field.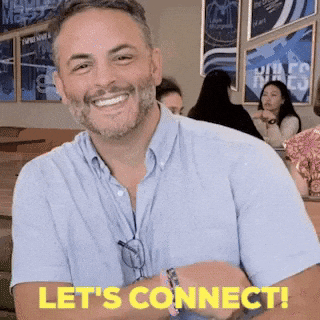 10. Network Wisely
Connect with relevant professionals, but prioritize quality over quantity. Personalize your connection requests to show that you're genuinely interested in forming a meaningful professional relationship. Building a strong network can open doors to partnerships and collaborations.
Do be careful of bots and scammers. They exist on LinkedIn just like they do anywhere else. Watch for these warning signs:
Generic requests or responses
Limited information on their profile page
Grammar or spelling errors in their replies
Pushy or overly complimentary demeanor
11. Be Consistent with Branding:
Ensure your branding is consistent across your profile. Use the same logo, color scheme, and messaging that you use on your website and other marketing materials.
Consistency builds recognition and reinforces your brand's identity. It also helps your company stand out in a feed of other posts. Each time someone sees your colors or logo, they'll make a mental connection to your business.
12. Engage with Others' Content
Don't just focus on your own profile—interact with others' content as well. Like, comment, and share posts that resonate with you. Engaging with others' content showcases your industry knowledge and willingness to connect.
13. Fill Out the "Extras" in Your Profile
There are some other areas you can fill in to make your profile even more engaging. But pace yourself and do them over time. If you try to do everything at once, you might give up halfway through. Schedule 30 minutes once a week until you have your profile tricked out just the way you like.
Some of those other areas to add are:
Licenses & certifications: include any IT certifications or online courses you've attended.
Skills: Choose from many of the IT skills, like cybersecurity and networking.
Publications: Add any articles you've written for other publications or articles that have featured your business.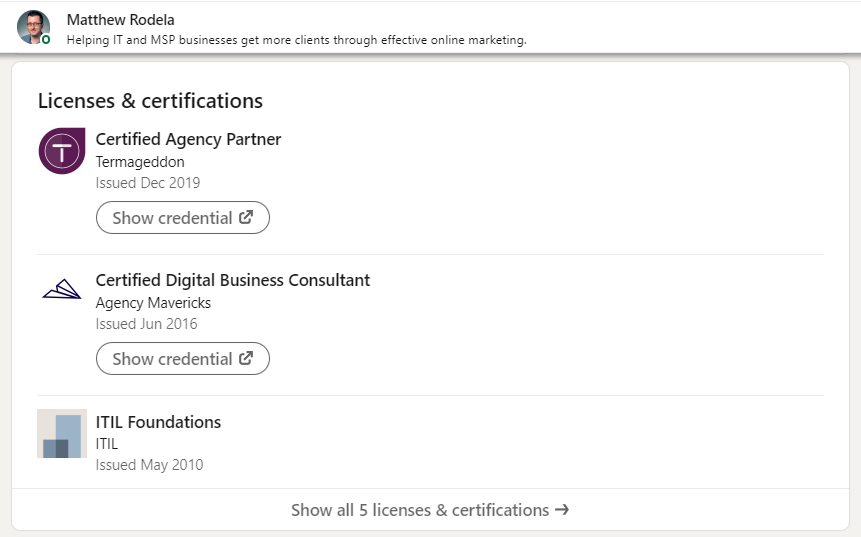 Here's an example from our Co-Founder, Matt. (Feel free to send a connection request 🙂)
14. Verify Your Profile
LinkedIn has added a new feature that allows you to get a verified icon on your profile at no cost. If you don't see an invitation to verify in "Suggested for You" when looking at your profile page, you can learn how to verify here.
15. Show Your Human Side
While professionalism is key, don't be afraid to show your human side. Share occasional behind-the-scenes glimpses into your MSP operations, team outings, or personal insights. This adds a personal touch to your profile and makes you more relatable.
Get the Most Out of LinkedIn: A Little Effort Goes a Long Way!
A killer LinkedIn profile can be a game-changer for MSP owners and IT business leaders. It's a powerful platform for showcasing your expertise, connecting with industry professionals, and attracting potential clients.
By following these tips, you can craft a profile that not only impresses but also engages, setting you on a path toward networking success.
Need some help creating unique branded content and getting it out? Tech Marketing Engine can help you attract more customers and increase revenue. Reach out today to tell us what you need.
How often do you use LinkedIn? Share your thoughts in the comments.