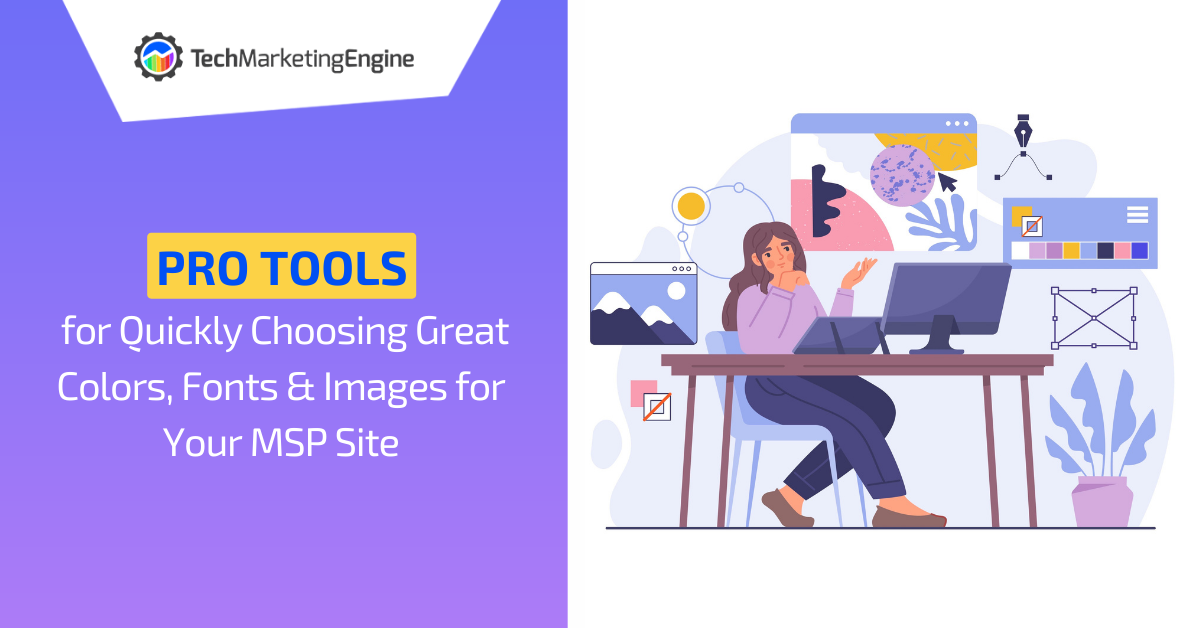 Running an IT business is a juggling act. You need to manage clients, answer service tickets, keep up with the ever-changing tech landscape, and prospect for new business. One crucial aspect that sometimes doesn't get the attention it deserves is your online presence.
I'm talking specifically about your branding and website. Looks matter, and they drive first impressions. Even before someone knows how great you are at IT work, they'll cross you off their list if your website looks bad.
Want to know some of the best (and free) sites you can use to give a stellar impression? Read on! We'll share some of our favorite pro tools that can help you quickly choose fantastic colors, fonts, and images for your MSP site.
Save Time with the Right Online Image Tools
Most MSPs don't have hours to search out the best photos and images for their site. It's time-consuming to come up with a good visual presence. You need colors that don't clash, fonts that reflect your business persona, and images that make people want to sign up for your services.
There will be usually two ways that small business owners go when it comes to their branding. They either hire a pro to do it, or if they don't have that kind of money, they put up something simple, and often uninspired and forgettable.
(Like the image below, which is NOT recommended for your branding)

Unfortunately, that lack of awareness of how important an online image is can cost a small MSP shop leads and customers. Why does design even matter for IT businesses and MSPs?
Imagine walking into an office that's cluttered, dimly lit, and disorganized. Would you feel confident in their ability to manage your technology needs? Probably not.
The same principle applies to your website. It's often the first interaction potential clients have with your business, and you want to make a strong impression.
First impressions of a website are 94% design-related, and 46% of visitors based their decision about credibility on the visual appeal of the website.
A well-designed website conveys professionalism, trustworthiness, and competence. It showcases your brand's identity, captures your unique approach, and guides visitors seamlessly through the information they're seeking.
So how can you get that without investing a ton of time and money?
Try some of these free tools to help you make your site shine.
Picking the Perfect Colors
Colors can evoke emotions, set the tone, and leave a lasting impact on your visitors. One wrong shade on a highlight box that clashes with your menu bar can instantly make someone recoil, even if they don't know why.
Choosing the best color scheme is easier than you might think when you try one of these tools that can land you on the perfect color palette.
This is definitely my go-to site when I need colors for a website design, PowerPoint presentation, or infographic. Rather than giving you just a few complementary colors to choose from based on a base color, this site gives you a whole page full of options!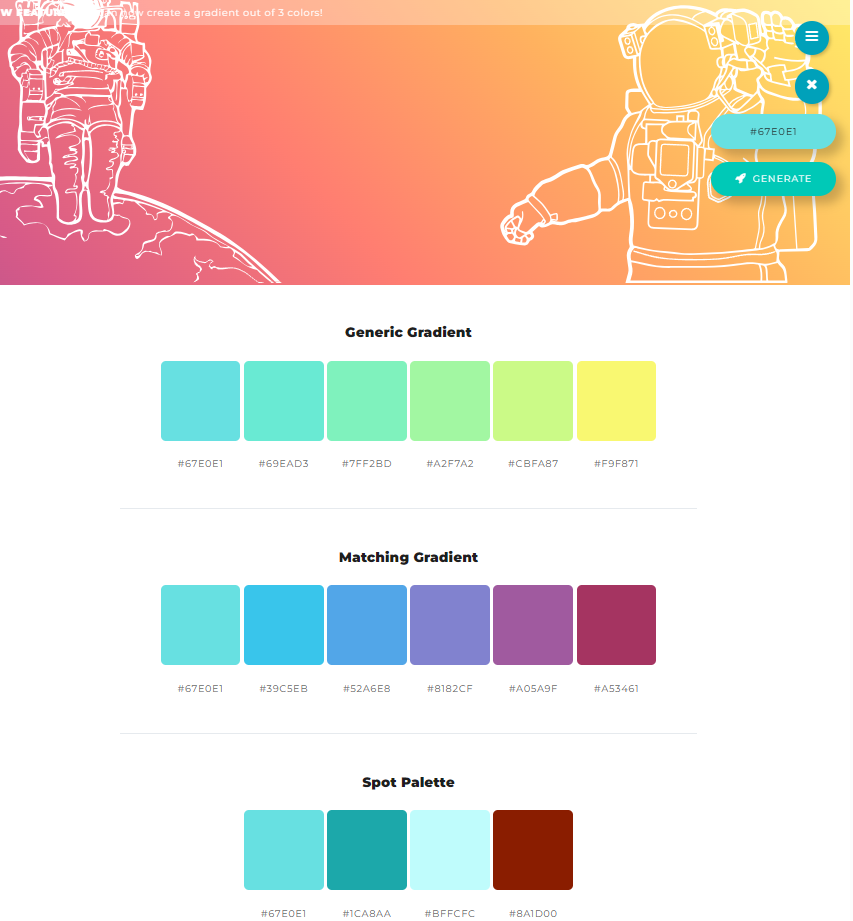 This user-friendly tool generates harmonious color schemes with just a click. Simply hit the spacebar to shuffle through countless color options until you find the ones that resonate with your brand.
This tool lets you create, explore, and save color schemes. You can use the color wheel to experiment with different combinations, or even upload an image that reflects your brand to extract colors from it.
If you're feeling stuck, Color Hunt offers a curated collection of beautiful color palettes. You can browse through different themes and find the one that aligns with your MSP's personality.
Selecting Fonts That Speak Volumes
Fonts might seem like a minor detail, but they play a significant role in conveying your brand's voice and style. Fonts can affect the readability, usability, and personality of your website. They can also help you convey your message and tone to your visitors, and create a visual hierarchy and contrast on your web pages.
Here are some tools to help you find the perfect typography.
If you're looking for premium fonts, Adobe Fonts is a fantastic resource. Many font options are available for Adobe Creative Cloud subscribers, and you can sync them directly to your website.
But you don't have to be a plan subscriber to get free fonts. You can sign up for a free Adobe ID and try out a basic library of over 1,000 fonts.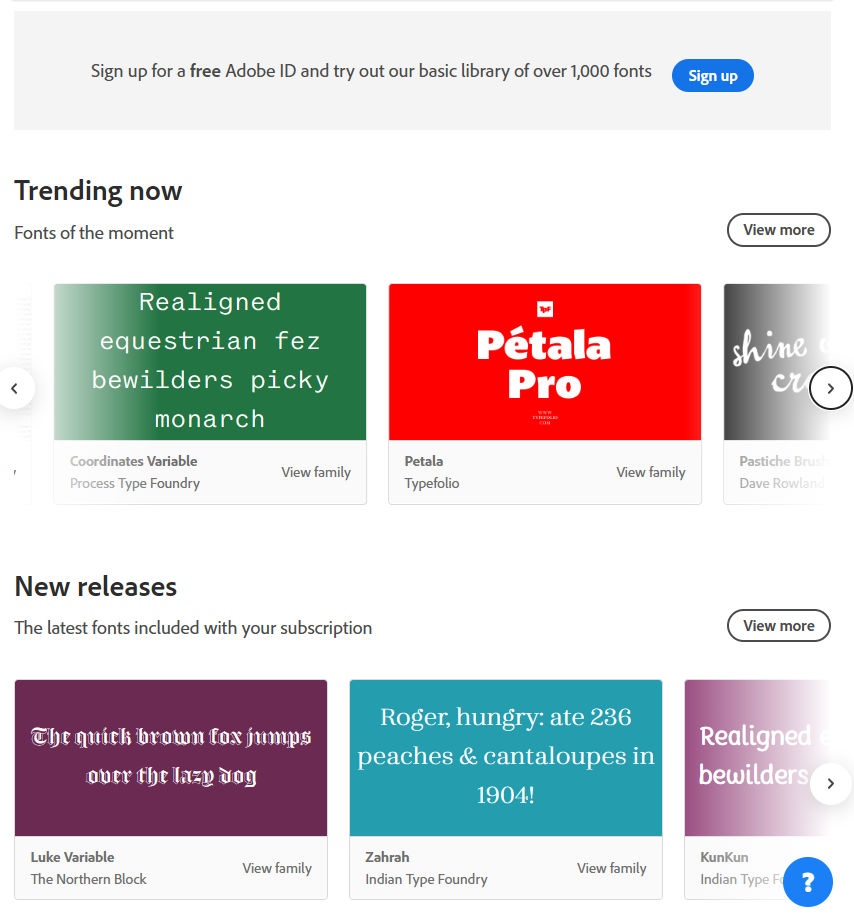 With an extensive collection of free fonts, Google Fonts allows you to preview and select the ones that resonate with your brand's personality. You can filter by category, thickness, and more.
Pairing fonts can be a real challenge, but Font Pair simplifies the process by suggesting font combinations that work well together. This ensures a harmonious and polished look for your site, and you don't spend hours trying to see which text style matches a headline font.
Images That Capture Attention
Visual content is a powerful tool for engagement. It helps break up the text, tell your story, and showcase your services. Images enhance the visual appeal, credibility, and engagement of your website and MSP blog. They can also help you illustrate your services and products, showcase your portfolio and testimonials, and connect with your visitors emotionally.
Great visuals can increase your website traffic by up to 400%.
Here are some of our favorite places to find eye-catching images (without having to pull out your credit card!).
Hands down, Adobe Stock has one of the best selections of free images and illustrations. You can sign up for a free Adobe ID, filter the search on "free" and get tons of high-quality options for your IT shop.
The results filtering options are handy as well. You can even filter for images with copy space if you want to find something you can use as a banner or ad.
Offering a wide variety of high-quality, royalty-free images, Unsplash is a go-to resource for many designers. You can search by keywords or explore curated collections.
Similar to Unsplash, Pexels provides a vast library of free stock photos and videos that can add life and vibrancy to your website.
Powered by DALL-E, this is one of the most visible AI-powered image generators that create images for you based on natural language text prompts. If you use the Edge browser, you can also access the tool in the Bing sidebar.
This technology is still very new, and the images of people can sometimes come out looking a bit strange. But I have noticed that they are getting better over time.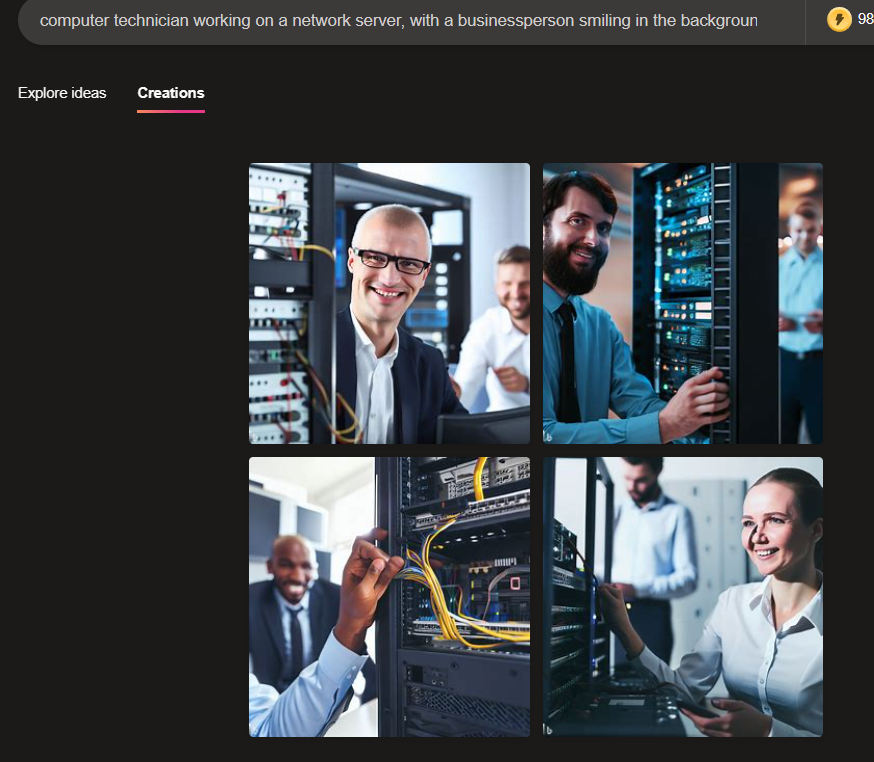 Some advantages of giving an AI image creator a whirl are:
Saves you tons of search time
Can help you generate an image that you can't find anywhere else
You can get really detailed in your request prompts
Bringing It All Together
Now that you've got your color palette, fonts, and images in hand, it's time to put them to use and create a visually stunning MSP website. Remember, consistency is key. Use your chosen colors and fonts consistently across all pages to maintain a cohesive look. Make sure images are relevant to your services and resonate with your target audience.
Speaking about consistency, this isn't just for the website itself. Anywhere you market – social media, postcard mailers, brochures, webinar presentations, etc. – use those same visual elements. It helps people recognize your business without even reading the name. You and your team also save valuable time because the fonts, colors, and main imagery are already there to use.
Remember that basic logo you saw at the beginning of the article as a "don't" for your branding? Here's an updated example that I made in 10 minutes using some of the tools above.

(Let us know if you want that adorable little computer dude, he's too cute to go to waste. :D)
Get Great Website Branding Faster & Cheaper
As an IT business owner, your website is a digital storefront that deserves attention. A well-designed site not only looks good but also builds trust, enhances your brand, and keeps visitors engaged.
By using these pro tools to choose the right colors, fonts, and images, you'll be well on your way to creating an online presence that reflects the expertise and innovation you bring to your clients. So go ahead, spruce up your website, and let your digital personality shine!
Need some expert help with branding, content, or website design? Check out Tech Marketing Engine for à la carte marketing solutions to supercharge your business.
Are there any design tools or sites you'd like to share with other MSPs? Post them in the comments.